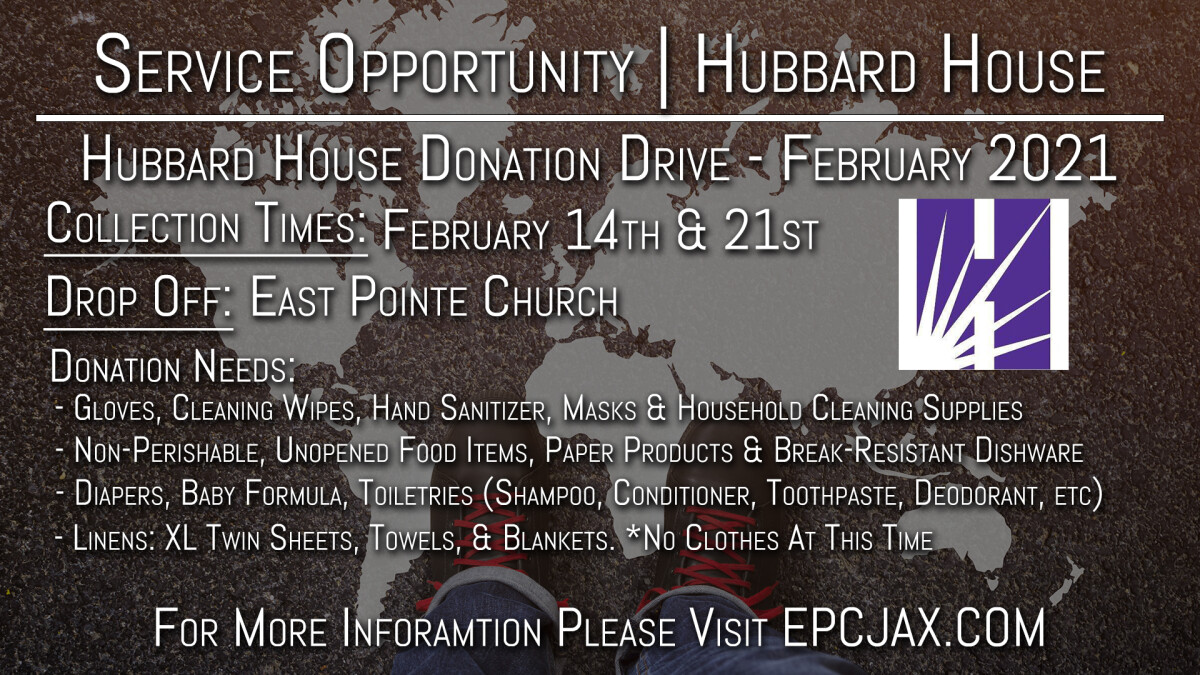 Every Sunday, from 02/14/2021 to 02/21/2021, 9:00 AM - 12:00 PM
East Pointe we are partnering with the Hubbard House in Jacksonville, Florida this February as part of Mission's Month. We will be collecting donations on February 14th & 21st at East Pointe Church.
Below is more information about what the Hubbard House is in need of and our focus for this drive. For more information please contact Pastor Steve Gant at
Each year, hundreds of donors support Hubbard House through donations of food, personal items or household goods. With 120 victims and children in Shelter every day, we always need the following items:
In response to COVID-19, Hubbard House needs gloves, cleaning wipes, hand sanitizer, and masks.

Non-perishable, unopened food items (canned proteins like peanut butter or tuna, canned veggies and fruits, boxed meals, salt, pepper, drinks).

Diapers (preferably size 3 and up) and any type of formula.

Linens: XL twin sheets, towels, blankets during winter months.

Paper products and household cleaning supplies (paper plates, napkins, toilet paper, paper towels, plastic silverware, etc. – no Styrofoam, please).

Break-resistant dishes, pots and pans, can openers, eating utensils.

Toiletries: full-size shampoos, conditioners, toothpaste, deodorant, tampons, and sanitary pads.
​At this time, we are unable to accept clothes.