MOPS @ East Pointe
MOPS International exists to encourage, equip and develop every mother of preschoolers to realize her potential as a woman, mother and leader in the name of Jesus Christ. At MOPS we provide a friendly and fun place for mothers to relax, encourage and learn from one another. This is an often challenging, yet rewarding time in the life of a mom. MOPS is here to provide an outlet for your stories, questions, and wisdom.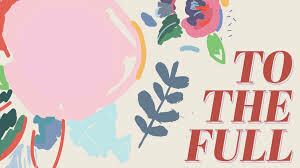 Welcome to the 2019-20 MOPS International Theme – To the Full
Theme Verse
The thief comes only to steal and kill and destroy; I have come that they may have life, and have it to the full.
– John 10:10 (NIV)
Sometimes we need the reminder that life is meant to be lived to the full, which means living grateful, joyful and hopeful. It means being led by the Good Shepherd and trusting that everything is working out exactly as it should.
We'll say farewell to autopilot and regain our vitality. We'll have more fun, get to know new people, fear less about what could go wrong or what others think. We will enjoy our kids like never before, and someday, when they wonder what life to the full looks like, they will look no farther than how mom does it.
But here's one important thing to remember: this idea of life to the full isn't about striving for more. It's not about striving at all. It is about recognizing that life isn't a bunch of goals to achieve, or people to please; but an invitation to savor, delight and enjoy your life just a little more.
When-
The East Pointe Church chapter of MOPS meets every second and fourth Tuesday morning from 9:30-12:00 from September to May. Registration and check-in for MOPS kids begins at 9:15am.
Where-
We meet in the Fellowship Center of East Pointe Church, 270 N. Kernan Blvd. Jacksonville, FL 32225.
Dues-
MOPS dues are collected at the beginning of the year and cost $130 for the year or $65 per semester. Dues will cover your MOPS International Membership, two catered breakfasts, craft supplies, and most importantly, the childcare provided by our skilled MOPS KIDS workers. Paying of dues will reserve your child/children a spot in an age appropriate childcare room. We offer childcare for children ages 4 months to Kindergarten. If you are new to MOPS we'd love for you to try a meeting before paying.
Play Dates-
You love to play (and so do your kids), so MOPS play dates are a win-win! We have a play date scheduled the 3rd Tuesday of every month, throughout our MOPS season. They usually begin at the same time as our MOPS meetings. Join us for a fun time with friends and kids!
CONTACT

Amanda Doyle
MOPs Coordinator
904.716.3052
or
East Pointe
270 N. Kernan Blvd.
Jax., FL 32225
904.641.8323