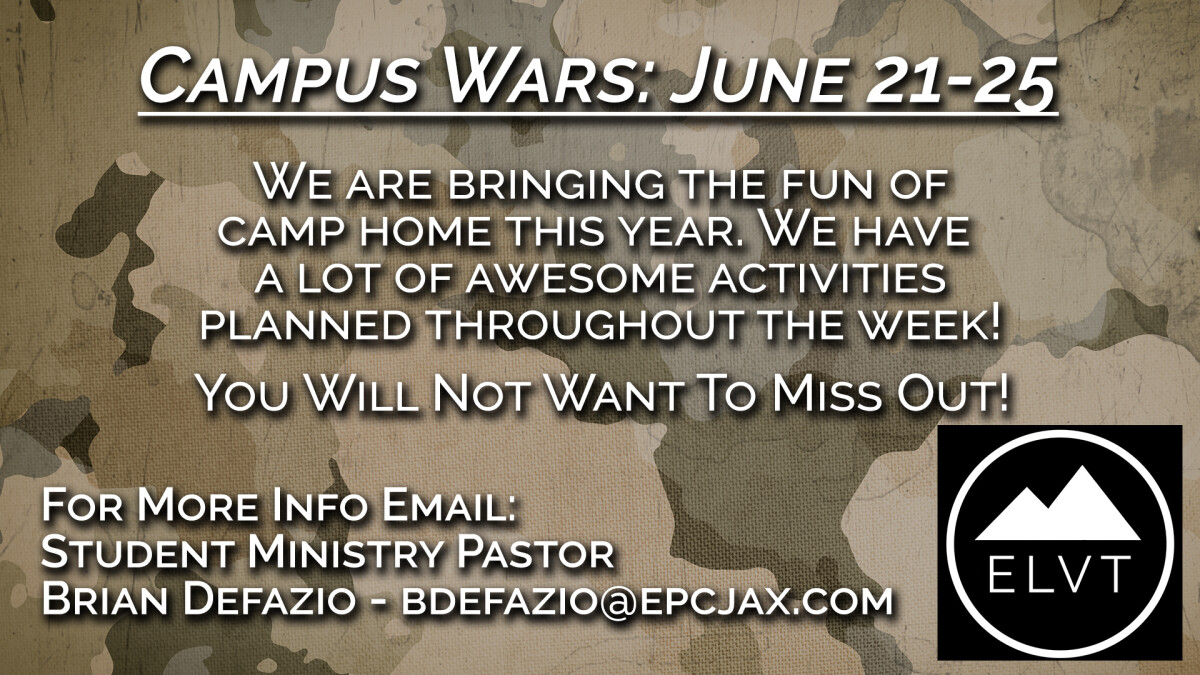 Monday, June 21, 2021 - Friday, June 25, 2021
THIS SUMMER STARTING JUNE 21st, WE ARE BRINGING THE FUN OF YOUTH CAMP HOME! WE WILL BE HAVING CAMPUS WARS AND DOING COMPETITIONS AND DEVOTIONALS ON THE EAST POINTE CAMPUS. THERE ARE A FEW OFF-CAMPUS ACTIVITIES AS WELL. WE WILL BE HAVING A ALL NIGHTER CAMP OUT ON CAMPUS JUNE 24th AND HAVE A FINAL BREAKFAST ON JUNE 25th! THE DAILY PROGRAM WILL RUN FROM 9AM TO 5PM!
CAMPUS WARS SCHEDULE:
JUNE 21st - FIELD DAY COMPETITIONS (9AM - 5PM)
JUNE 22nd - BEACH DAY (6:30AM - 3PM)
JUNE 23rd - FIELD DAY COMPETITIONS 2 (9AM - 5PM)
JUNE 24th - OVER NIGHTER WORSHIP NIGHT (6PM - 6AM)
JUNE 25th - MORNING BREAKFAST & ANNOUNCEMENT OF WINNING TEAM!
FOR MORE INFORMATION ABOUT OUR ELEVATE YOUTH GROUP PLEASE CONTACT OUR STUDENT MINISTRY PASTOR, BRIAN DEFAZIO AT .